My usual place of camping in the #Drakensberg was fully booked so my wife wanted a site with plug points and she found Cathedral Peak Didima Campsite. What inspired this post was a lack of images of the site even on Google searches or Twitter. I have since added photos to the Google Maps link and GooglePlus link in turn. Let's talk about the campsite.
At Didima they have Chalets which are the ones you will find mostly in searches but they do have a #Campsite as well. The Campsite is called Cathedral Peak Community Campsite. The best images and information I could find before making a decision was on the Rhino Club Blog http://rhinoclub.wordpress.com/2011/03/08/didima-campsites-in-cathedral-peaks-nature-reserve/
Where on earth is this place
Didima Campsite is in Giants Castle Game Reserve, Drakensberg. At the time of writing this post the route R74 was under construction, so it is highly recommended NOT to use it but stay on the N3 highway until you off-ramp straight to #Winterton. UPDATE: 8 DECEMBER 2015 THE R74 WAS OPEN WITH A NEW SURFACE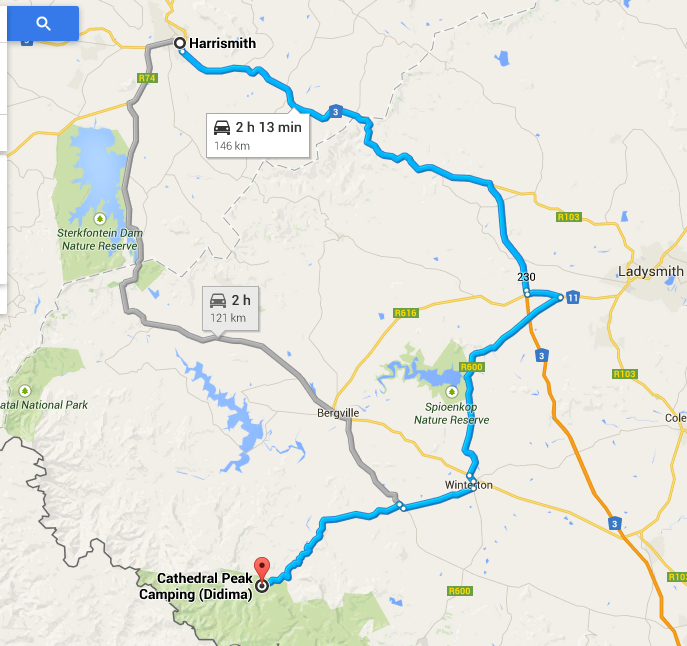 The Cathedral Peak Community Campsite offers 30 camping and caravan sites with electricity that can accommodate a maximum of 6 people.
Campers are to pay the fees at the reception.
The communal ablution facilities have toilets, hot showers, baths and a communal kitchen.
Braai stands are available; with firewood and charcoal for sale at the Curio Shop
WeszMadz Says:
One lady was cleaning both ablution blocks. She was so slow she would not clean the second one until we reported to management and action was taken. Lesson – inform management of any issues. They come around at least twice a day
On the side we stayed they were at least 7 street lights out. When we reported at main reception the answer was basically there is nothing we can do about it. Lesson – bring own external lighting just in-case
Two security guards are on duty at night which is great. One visited me when I was alone by the fire at midnight just to see if all was okay
The camp is setup alongside a river. Divine sounds when you sleeping
The lawn needs proper maintenance and some parts totally don't have lawn.
All sites have electricity but your traditional plug won't fit. You will need to rent one from reception. But if you have the Caravan hookup then you are sorted. —->>
The hot water is not always hot but I think that's an issue of gas.
The entrance and exit gates get closed at night
You can still enjoy a game of pool or eat at the restaurant by the main camp
The hiking and views are the best I have seen so far of the Drakensberg
The Campsite has washing and drying machines. R10 to wash, R10 to dry. Bring R5 coins..
Images of the Campsite