One of our clients asked this Question: How do people residing in the Western Cape and KZN, doing the same job with the same tools etc, earn up to 20% less than Gauteng? via Taryn. So I went to my social networks and posed the same question. Below are the responses .. (full names not used unless where approval has been granted)
Jay –

Cost of living is higher in Gauteng

Erika –

Accommodation is much more expensive in Western Cape

Fritz –

Because Cape Town have the mooooountain.

Johann – I think they only get up to speed after 10:00 am en they're on the beach by 15:00.
So they get paid for half day. Calling it a full time job makes them feel great.
Pieter –

Productivity is a factor but then again is it worth the 20%?

Albert –

Supply and demand is vastly different between the provinces also. My branch managers in Gauteng, Dbn and Cpt dont earn the same because we don't bring in the same revenue at each branch.

Lisinda –

They dont have to pay etolls

Stephan –

Common sense says there's more companies and more money here. More money more pay.

Julia – Because the standard of living in Johannesburg is higher and it is a known fact that in Johannesburg ,people tend to travel longer distances
Taryn – I understand Julia's comment. The cost of living in Cape Town is quite high too….Durban not as much as JHB and CPT but a lot of workers commute from surrounding areas such as PMB to work in Durban too
Julia – I agree that the cost of living is high in Cape Town too but Johannesburg is by far the highest. Yea workers do commute in Durban but the distance travelled is not as far as the distances travelled in jhb and surrounds but yes very interesting topic to be discussed
Malcolm – Simply because you need to pay 20% more for people to want to live in JHB, they typically have to sacrifice coastal living and lifestyle aspects and substitute it with traffic and longer hours
Deon –

Almost everything in Pretoria cost more, as it is brought up from the coast. even fuel is cheaper there…i don`t know how accurate your clients gesture is… But There is also more capital to go around here and almost everything is more expensive here… If your client stays here you can respond with, you earn 20% more, why should I….

Kenji – I am originally from Cape Town and moved to Johannesburg last year September, and the cost of living between the cities are high. Cape Town you don't travel far distances to work etc, however in Johannesburg, it's constant traffic, everything is far and even groceries are ridiculous. But I think, it should be fair to everyone that the salaries offered in both cities for certain positions should be the same
Nicky –

20% increase in JHB is like "danger pay"

Laurence –

The generalisation would be smaller companies in KZN. Entrepreneurs will pay less than a blue chip. Also lower qualifications would play a role. What are our costs on recreation vs theirs? I think you'll see we'll outspend them by a big margin. Our healthcare costs are probably more too, due to our lifestyle and stress levels.

Jamie – The simple answer is that the cost of living in Johannesburg Metro is more than the other provinces. From the cost of groceries, travel, entertainment, eating out, fuel, taxes. This is one of the reasons why the Western Cape is booming and Gauteng is declining. A lot of companies are relocating to the Western Cape because of the lack of service delivery and governance but mainly because it is less expensive to run the business out of Gauteng
Njabulo – Well, JHB life is quite expensive. From renting an apartment to buying groceries. Transportation is a nightmare and more people drive here than they commute whereas in Durban, more especially, people commute and public transport is cheaper ……Most of the big name companies' headquarters are based here.
Sean – Look at it in terms of an Expat Salary with an inconvenience allowance to live there.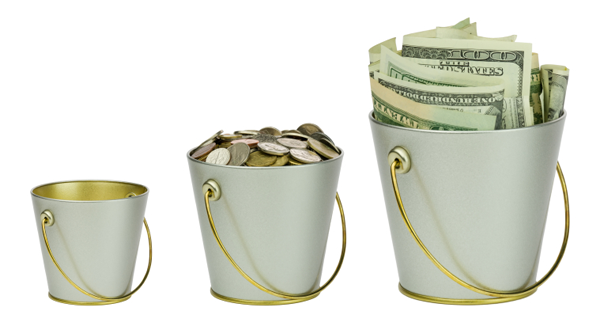 image source: https://www.skybankfinancial.com/wp-content/uploads/2012/05/enterprise-ecommerce-salary-comparison.png